Promotions

Equipment hire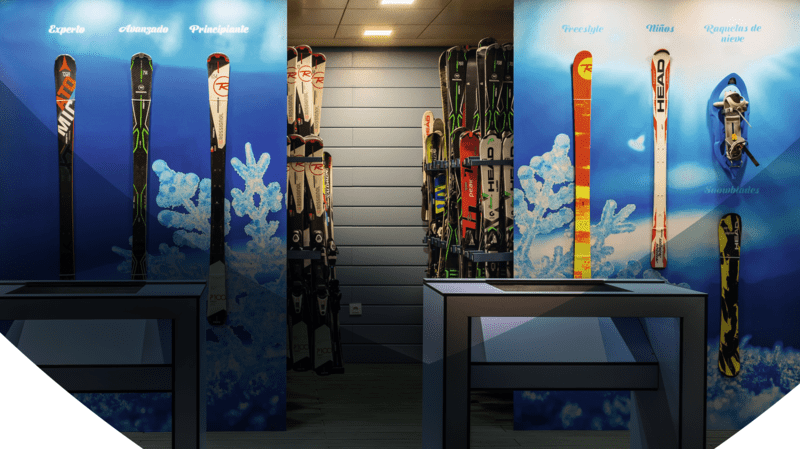 FOR CHILDREN
UP TO 6 YEARS
FROM
38€
Now it's possible! Full equipment hire + ski pass at a reduced price.
At Valdesqui we have everything you need to have an amazing day on the slopes. If you don't have ski or snowboard equipment, don't worry, at the base of the ski resort you will be able to choose from a wide range of full equipment from the top brands.
And remember, you and your companions can purchase the ski pass at the time of rental, thus gaining time to start enjoying as soon as possible those runs down our slopes that you like so much.
Full ski equipment includes: skis, boots, poles and helmet for children up to 12 years.
Full snowboard equipment includes: board, boots and helmet for children up to 12 years.
And, in addition, on weekends children between the ages of 5 and 8 will be able to enjoy our mini snowmobiles for free!
*Promotions are not cumulative.
High Seasonta

Low Seasontb

Skier's Dayde

Kids

(3-6 years)
INCLUDES SKI PASS + SKIS + BOOTS + POLES + HELMET
43,00€
43,00€
38,00€

Children

(7-12 years)
INCLUDES SKI PASS + SKIS + BOOTS + POLES + HELMET
58,50€
53,50€
53,50€

Adults

(13-64 years)
INCLUDES SKI PASS + SKIS (BEGINNERS) + BOOTS + POLES

Not available

65,00€
60,00€

Seniors

(≥64 years)
INCLUDES SKI PASS + SKIS (BEGINNERS) + BOOTS + POLES

Not available

60,00€
60,00€
High Seasonta

Low Seasontb

Skier's Dayde

Kids

(3-6 years)
INCLUDES SKI PASS + SNOWBOARD + BOOTS + HELMET
43,00€
43,00€
38,00€

Children

(7-12 years)
INCLUDES SKI PASS + SNOWBOARD + BOOTS + HELMET

Not available

53,50€
53,50€

Adults

(13-64 years)
INCLUDES SKI PASS + SNOWBOARD (BEGINNERS) + BOOTS

Not available

67,00€
62,00€

Seniors

(≥64 years)
INCLUDES SKI PASS + SNOWBOARD (BEGINNERS) + BOOTS

Not available

62,00€
62,00€