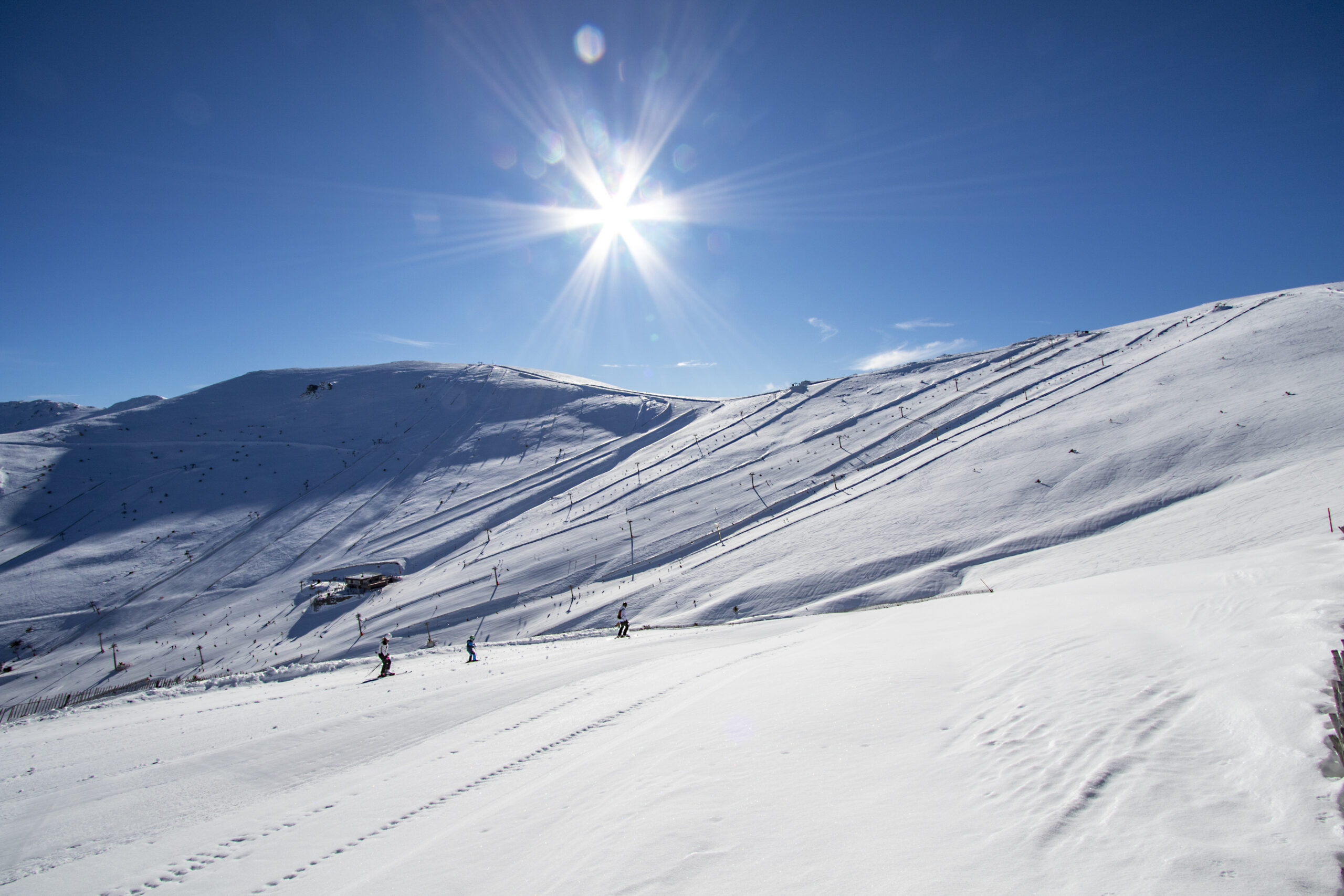 Points of sale:
Main ticket offices
School (with the booking of classes)
Hire shop (customers who need to hire equipment and members of their party)
At the time of purchasing the day ski pass at the available points of sale, it is advisable to purchase insurance , which offers, among other advantages:
Cover for transfer and medical care in private hospitals.
Accident compensation.
Public liability.
The insurance cost €4,00/day.
It is important to bear in mind that insurance should be secured before using the ski pass.
The resort offers a free first aid and rescue service on the slopes.
In high season, we offer a free ticket for children aged between 5 and 8 years who buy the day ski pass for a free ride on a mini snowmobile.
The price of the day ski pass varies according to the number of skiable km available.
Click here to see the updated resort report
FORFAIT DAY
HIGH SEASONta

LOW SEASONtb

SKIER'S DAYde

Kids

3-6 years (Age proof required)
38,00€
33,00€
33,00€

Children

7-12 years (Age proof required)
38,00€
33,00€
33,00€

Adults

13-64 years
43,00€
43,00€
38,00€

Seniors

≥ 65 Years (Age proof required)
38,00€
38,00€
38,00€

People with disabilities

With disability degree ≥ 33% Valid document required
38,00€
38,00€
38,00€
With skiing area less than 11km
HIGH SEASONta

LOW SEASONtb

SKIER'S DAYde

Kids

3-6 years (Age proof required)
28,00€
28,00€
28,00€

Children

7-12 years (Age proof required)
28,00€
28,00€
28,00€

Adults

13-64 years
32,00€
32,00€
29,00€

Seniors

≥ 65 Years (Age proof required)
29,00€
29,00€
29,00€

People with disabilities

With disability degree ≥ 33% Valid document required
29,00€
29,00€
29,00€
PRADERA ONLY
FIXED RATEFR

Kids

3-6 years (Age proof required)
23,50€

Children

7-12 years (Age proof required)
23,50€

Adults

13-64 years
23,50€

Seniors

≥ 65 Years (Age proof required)
23,50€

People with disabilities

With disability degree ≥ 33% Valid document required
23,50€
TA: HIGH SEASON, TB: LOW SEASON, DE: SKIER'S DAY
| Mon | Tue | Wed | Thu | Fri | Sat | Sun |
| --- | --- | --- | --- | --- | --- | --- |
| | | | 1 | 2 | 3 | 4 |
| 5 | 6 | 7 | 8 | 9 | 10 | 11 |
| 12 | 13 | 14 | 15 | 16 | 17 | 18 |
| 19 | 20 | 21 | 22 | 23 | 24 | 25 |
| 26 | 27 | 28 | 29 | 30 | 31 | |
| Mon | Tue | Wed | Thu | Fri | Sat | Sun |
| --- | --- | --- | --- | --- | --- | --- |
| | | | | | | 1 |
| 2 | 3 | 4 | 5 | 6 | 7 | 8 |
| 9 | 10 | 11 | 12 | 13 | 14 | 15 |
| 16 | 17 | 18 | 19 | 20 | 21 | 22 |
| 23 | 24 | 25 | 26 | 27 | 28 | 29 |
| 30 | 31 | | | | | |
| Mon | Tue | Wed | Thu | Fri | Sat | Sun |
| --- | --- | --- | --- | --- | --- | --- |
| | | 1 | 2 | 3 | 4 | 5 |
| 6 | 7 | 8 | 9 | 10 | 11 | 12 |
| 13 | 14 | 15 | 16 | 17 | 18 | 19 |
| 20 | 21 | 22 | 23 | 24 | 25 | 26 |
| 27 | 28 | | | | | |
| Mon | Tue | Wed | Thu | Fri | Sat | Sun |
| --- | --- | --- | --- | --- | --- | --- |
| | | 1 | 2 | 3 | 4 | 5 |
| 6 | 7 | 8 | 9 | 10 | 11 | 12 |
| 13 | 14 | 15 | 16 | 17 | 18 | 19 |
| 20 | 21 | 22 | 23 | 24 | 25 | 26 |
| 27 | 28 | 29 | 30 | 31 | | |
| Mon | Tue | Wed | Thu | Fri | Sat | Sun |
| --- | --- | --- | --- | --- | --- | --- |
| | | | | | 1 | 2 |
| 3 | 4 | 5 | 6 | 7 | 8 | 9 |
| 10 | 11 | 12 | 13 | 14 | 15 | 16 |
| 17 | 18 | 19 | 20 | 21 | 22 | 23 |
| 24 | 25 | 26 | 27 | 28 | 29 | 30 |
| Mon | Tue | Wed | Thu | Fri | Sat | Sun |
| --- | --- | --- | --- | --- | --- | --- |
| | | | | | | |
| 1 | 2 | 3 | 4 | 5 | 6 | 7 |
| 8 | 9 | 10 | 11 | 12 | 13 | 14 |
| 15 | 16 | 17 | 18 | 19 | 20 | 21 |
| 22 | 23 | 24 | 25 | 26 | 27 | 28 |
| 29 | 30 | 31 | | | | |
Low season
Hight season
Skier's day
Holiday